Lichfield Cathedral Choir Lent Quiz 2015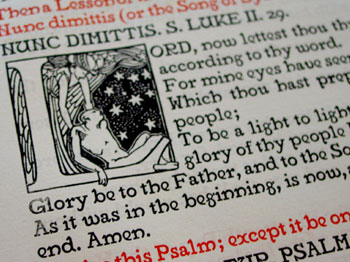 Having exceeded the milestone of 1,000 followers on Twitter, this is the promised Lent Quiz (or #LentQuiz in Twitter parlance) being run for fun and the love of cathedral music. For the penitential season of Lent, the entire quiz is based on settings of the Nunc dimittis and, in honour of the celebration of at least 700 years of the Choral Foundation at Lichfield Cathedral which is starting on Easter Monday with a reunion for former choristers, the choir's audio archives have been raided for the occasion.

For each of the forty days of Lent 2015 (which runs from Wednesday 18/2 to Saturday 4/4 and excludes Sundays) at 6.00pm GMT (or BST during Holy Week after the clocks have gone forward), a sound clip of the first complete sung line of a Nunc dimittis will be published. Any organ introductions are omitted and the clip will only contain the first complete choral rendition of 'Lord, now lettest thou thy servant depart in peace'. The recordings have been compiled from a variety of sources (both public and private) and media and therefore vary in recording quality. Nevertheless, they are all sung by the choir of Lichfield Cathedral at events over the past fifty years.

The clips will be published here, on the choir's Twitter feed and Facebook page at the same time. To enter, people will have to submit their answer on the day's entry form which will be accessible from the posts and by following the links from 6.00pm each day. There will be daily winners and an overall winner, all of whom will be named on Easter Day and can be found along with the answers, here.