Lichfield Cathedral Choir Lent Quiz 2018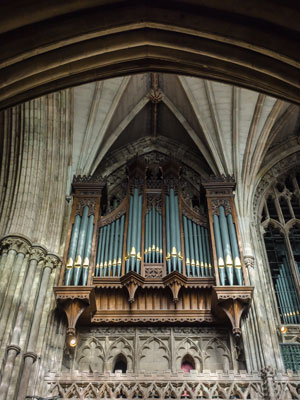 After a trek around forty English cathedrals, the 2018 #LentQuiz is over. There have been just over 2,100 entries in total, with an average of nearly 50 entries per day. Day 2 was clearly the easiest with 78 correct entries, and Day 6 was the most challenging with just 38 correct entries.

Congratulations to the overall winner, Jo Scriven, whose name was selected at random out of the 17 people listed below to get all forty correct, on whom congratulations are also bestowed!
Gary Cole
Alex Coles
Matthew Collins
Gilly French
Walter Gaber
Paul Hammond
Patsy Howes
Jonathan Lane
Harriet Mountford
David Noble
Peter Parshall
Julian Ross
John Sharples
Dan Soper
Jonathan Vaughn
Philip White-Jones
The pictures can still be accessed through the introduction page and they are now captioned with the answers; all the answers, with a daily winner picked at random from the correct entries, are listed below.