Lichfield Cathedral Choir Lent Quiz 2020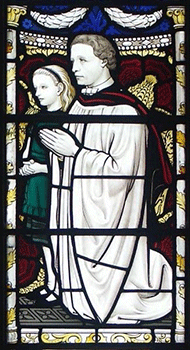 Lent 2020 sees a new partnership with The Burgon Society to pick up on an item of dress often worn by clergy and adult singers: the academic hood.

For each day of Lent (from Ash Wednesday, this year on 26 February, until Easter Eve and excluding Sundays), an image of an academic hood awarded by a university in the UK will be published here at midnight. It can be accessed via the relevant link below, or via tweets and posts on our Facebook page published each morning.

The task is quite simple: simply identify the awarding institution and the degree for which the hood is awarded. Lists of all the UK universities and the degrees used in the quiz are given under the picture, so it is just a question of selecting the correct answers from the lists. There are two possible points available each day, and players can enter as many times as they like, but it is only their final answer which will be marked.

As there are over 2,500 possible combinations in the lists, once the image has been published, answers will continue to be accepted for all the published images until 23:59 on Easter Eve.

There will be an overall winner with the highest score, and if there is a tie, the overall winner will be selected at random. The overall winner's name will be published on Easter Day, along with all the answer: they can be found here.